Temples of Mahānirvaṇi Akhāḍā
Sangameshwar Mahadev Temple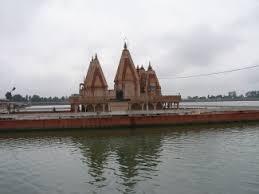 Two rivers named River Krishna and Veena meet in confluence at this location in the State of Haryana (Sangam means confluence).  Therefore the village situated on the bank of this confluence is called Sangam Mahuli. This village earlier was part of 'Aundh Princely State'. There are 3 well-known temples around the convergence of the rivers viz: Vishveshwar, Sangameshwar & Rameshwar. In the Vedic month of Shravan (Jul-Aug), millions of pilgrims offer worship for the Shivalinga here. This place is also the center of psychology.
This is a mystical temple of Lord Shiva, where snakes come once a year and worship the Shiva linga (seen in the picture), and also circumambulate the deity of Lord Shiva. After worshipping they leave the place.
History
According to the Puranas (Hindu History), Lord Paramashiva himself appeared in the form of a Shivalinga here which is here for centuries now as a deity. Thousands of pilgrims and devotees visit this temple regularly.  It is believed that Goddess Saraswati worshiped Lord Paramashiva here to be free from a curse. Here, the sight of Lord Paramashiva gives peace to the mind. Mentally disturbed people offer water to Paramashiva and experience relief from mental stress.