Festivals of Mahanirvani Kingdom
Hanuman Jayanti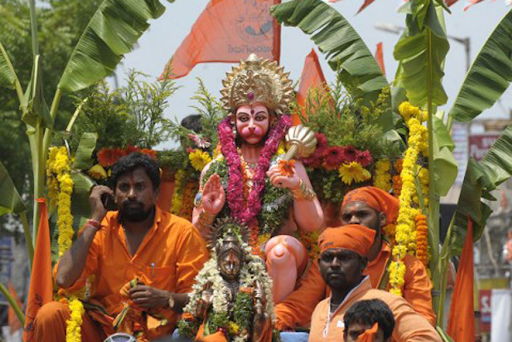 Lord Hanuman was born on the Anjaneri mountain. His mother Anjana was an apsara who was born on earth due to a curse. She was redeemed from this curse by giving birth to a son. The Valmiki Ramayana states that his father Kesari was the son of Brihaspati, he was the King of a place named Sumeru. Anjana performed intense prayers lasting 12 long years to Shiva to get a child. Pleased with their devotion, Shiva granted them the son they sought. He is known to be the incarnation of Paramashiva Himself. 
Lord Hanuman is an ardent devotee of Lord Sri Rama and is widely known for his unflinching devotion to Sri Rama. Hanuman is the symbol of strength and energy. He is said to be able to assume any form at will, wield the Gada (including many celestial weapons), move mountains, dart through the air, seize the clouds, and equally rival Garuda (the vehicle-mount of Lord Vishnu in the form of an eagle) in the swiftness of flight.
Lord Hanuman is worshipped as a deity with the ability to attain victory against evil and provide protection.
The devotees visit temples and apply tilaka of sindoor to their foreheads from Hanuman's idol. As per legend, When Lord Hanuman found Sri Sita applying sindhūr to her forehead, He questioned her and she replied that doing so would ensure a long life for her husband, Lord Sri Rama. Lord Hanuman then proceeded to smear his entire body with sindhūr, thus ensuring Lord Sri Rama's immortality.
It is also common practice to chant the Hanuman Chalisa (verses praising Lord Hanuman). On this day, large statues of Hanuman can be seen in procession on the streets across North India, particularly in Maharashtra. The deity of Hanuman is taken across the town with great celebration and pomp, where devotees sing and dance in His praise.