Festivals of Mahanirvani Kingdom
Krishna Janmashtami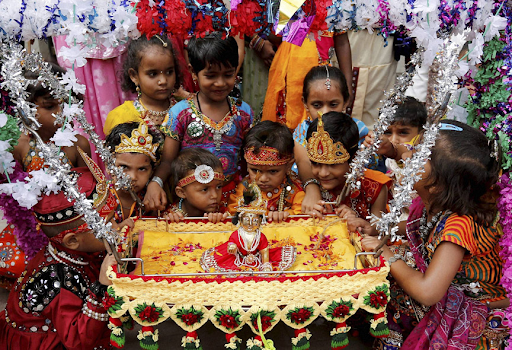 Krishna, the incarnation of Lord Vishnu, is the boldest and most courageous lover. He is the embodiment of completion and love, simply in romance with the whole Cosmos. He is soaked in eternal devotion. In fact, he was one of the Mahamandaleshwars of the Mahānirvaṇi Peetha, and refers to himself as the "Kapila" among the Siddhas meaning the perfect enlightened being. 
Krishna shows the way to live life out of pure completion. He shows the way to radiate life with joy and bliss wherever you may be.  
Janmashtami, the day of the advent of Lord Krishna on the Planet is celebrated with great devotion and enthusiasm in India in the month of July or August. According to the Hindu calendar, this religious festival is celebrated on the Ashtami of Krishna Paksha or the 8th day of the waning moon in the Vedic month of Bhadrapada. 
Sri Krishna assumed the human body around 5,200 years ago in Mathura in Uttar Pradesh, North India. The sole objective of Sri Krishna's birth was to free the Earth from the negative demons. He is the incarnation who steered the Mahabharata war and who delivered the Bhagavad Gita which taught bhakti (devotion) and good karma which are narrated so deeply in it. 
Sri Krishna was born in a prison in the custody of the cruel King Kansa of Mathura. Vasudev, His father immediately thought of his friend Nand and decided to hand over his child to him to save Krishna from the clutch of Kansa. Krishna grew up in Gokul in Uttar Pradesh, North India, and finally destroyed his evil uncle, King Kansa.
The actual celebration of Janmashtami takes place during the midnight as Sri Krishna is believed to be born on a dark, stormy, and windy night to end the rule and violence of his uncle, Kansa. All over India, this day is celebrated with devotional songs and dances, pujas (ritualistic worship), arati (offering of the sacred flame to Sri Krishna), blowing of the Conch, and rocking of the cradle of baby Sri Krishna.